Mexico Vacation Home Buyers Purchasing for Financial Gain, Not Just Family Getaways
The international market for second homes has changed significantly over the past ten years, with buyers now prioritizing rental income over purchasing exclusively for their own use, according to a major new international survey*
Back in the 1970s, nine out of ten owners kept their second homes to themselves.  Even as recently as the year 2000, eight out of ten owners never rented their properties to travelers.  A period of rapid change shows now more than two-thirds of owners rent their second homes for at least part of the year to cover some or all of their ownership costs.
For the first time, owners' primary motivation for ownership is rental income potential, which has overtaken family getaways as the initial use for a second home.
"Today's second home buyers want properties to work for them financially and they are increasingly looking not just to cover costs but to turn a profit."
The credit-fueled boom of the early 2000s and online expansion of the travel industry triggered rapid growth in the market for additional vacation homes across the U.S. and Europe.  Low-cost airlines opened new destination choices overseas.  British buyers became particularly active in second home acquisition overseas.
When the global financial crisis hit, national housing markets contracted and demand for second homes fell.  The market retreated to prime, established locations, led by wealthy, capital-rich individuals with little or no reliance on borrowing.  Growth has resumed in recent years, but the sector looks very different with smaller and cheaper properties leading the market, with buyers attuned to the potential for income. The demand of the traveler has also changed.  With more travelers using online marketplaces for short-term rental accommodation, the market has become much more accessible for owners to rent their properties, even beyond the traditional family holiday at the beach or ski slopes.
"Global tourism continues to grow, with international tourist arrivals up by seven percent last year to a record 1.3 billion.[1]  At the same time, the rapid expansion of online vacation home platforms, such as HomeAway, opens the market to new target groups and makes it much easier for owners to make their properties income-producing.
"Over the past ten years, the online travel industry has changed significantly. Staying in a vacation home has transformed, moving from an alternative way to travel to a preferred way to stay," comments Christophe Pingard, Vice President EMEA, HomeAway. "With the rise in the popularity of the category, vacation rentals are not only attracting more travelers, and perhaps most significantly, a new generation of younger travelers accustomed to booking homes over hotels for their trips."
Based on the survey* sample, the average price of a property purchased last year stood at $291,000, 37 percent less than a decade ago.  Just over a third (34 percent) of properties bought were condos, up from a quarter over the last ten years, reflecting the changing nature of the second homes lettings market.
A third of all owners cover costs with rental income, and another third make a profit.  The average gross yield across the sample stands at 6.4 percent, or 3.9 percent after costs, but excludes taxes.
In the U.S., Florida is top of the list for ownership, accounting for 14 percent of second homes, followed by California (7 percent) and North Carolina (4 percent).  Americans and Canadians are the primary international investors of vacation homes in  Mexico. Seventy percent of U.S. owners completely cover the cost of ownership with rental income.
What are the purchasers' priorities when choosing a property? The availability of broadband is the single most important feature cited by owners when choosing a property. In the digital age, connectivity is key, a factor common across all nationalities and ages (see chart).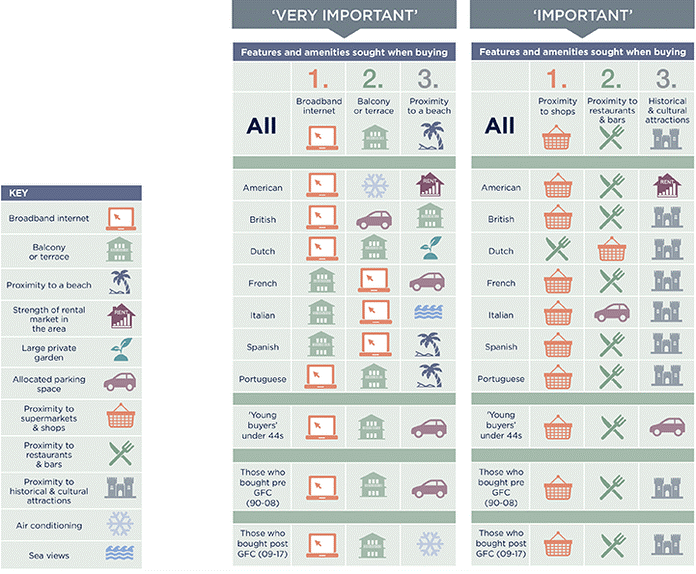 The next most important factors are property-specific, such as balconies and terracesand also the availability of parking. Proximity to a beach is an absolute must-have for many, as is air conditioning. These are all 'very important' features that might be considered non-negotiable in property searches.
When broadening to 'important' factors, local amenities come into play. Proximity to shops, restaurants, and local cultural attractions all rank highly. Seeking a 'home from home', convenient local amenities and entertainment are highly demanded features in a second home by owners.
Developers of resorts where a proportion of accommodation is targeted at second homeowners, therefore, need to understand the importance of creating (or finding a site in) the right type of location. Mixed-use neighborhoods and a sense of place will have an impact on the saleability of a scheme – even if it isn't a 'must have' from the short-term holidaymakers they usually cater to.
The strength of the local rental market is another important factor and reflects current owner emphasis on income. This is particularly the case for American, Dutch and 'young' owners (under 44s), reliable evidence-backed on rent levels, voids and running costs will be of increasing importance to buyers.
Golf's in a hole?
Many purpose-built resorts targeted at second home buyers have a golf course at their heart. Proximity to a golf course (whether on or off-site) is a feature in a third of all properties in our sample of owners, but its appeal to buyers appears to be waning.
Being close to a golf course was cited as 'not important' by 45% of all respondents, and by 55% of British owners surveyed (compared to 32% in 2011). For developers, using golf courses as a major selling point may not be the marketable asset it once was. Second-hand sellers on golf courses may also find that their property no longer commands the premium value they once expected.
Cash is King
The majority of homeowners (45%) self-financed their second property (i.e. without using a mortgage). Financing behavior varies by nationality.
Well, over half (59%) of American owners took out a mortgage in some form, usually in the US rather than the country of purchase. Spanish owners are also far more inclined to a mortgage (52%) when compared to their European counterparts, often putting their main residence up for security. Southern Europeans are generally more likely to have inherited their second homes.
The share of homes financed by mortgage borrowing peaked when it accounted for 43% of property finance. In 2017, a mortgage was used in 35% of second homes purchased.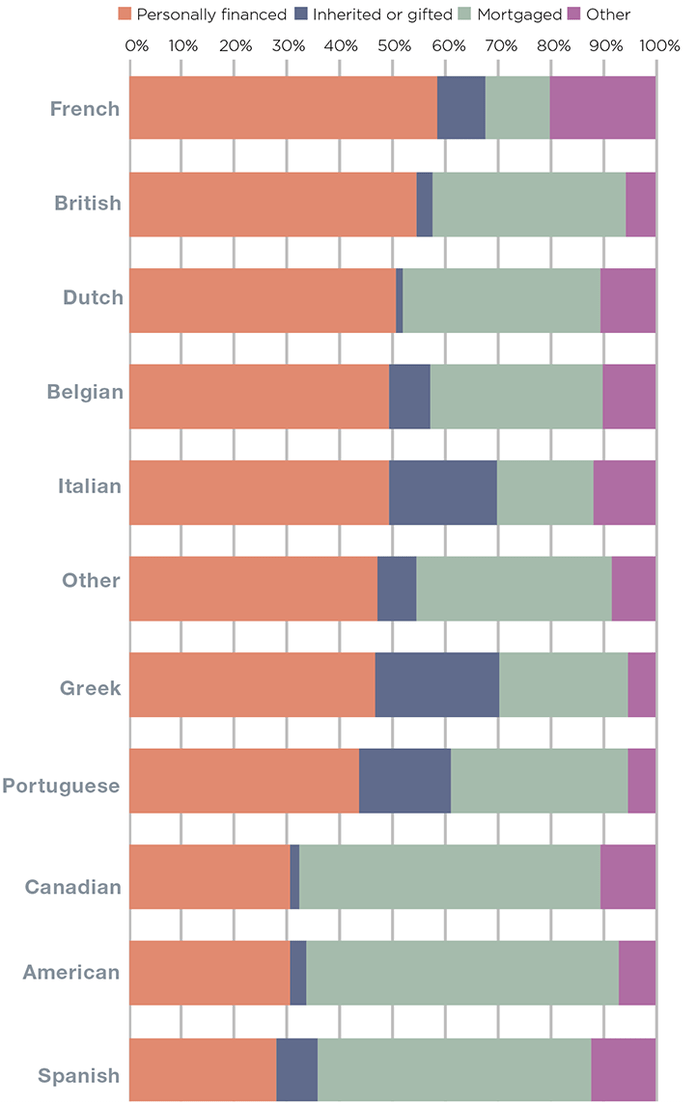 Changing demographics of buyers and their needs will better prepare you to Invest, Develop, and Market your property accordingly.
By Alfonso Galindo