The best place to live in the world is very subjective, the answer is different for everyone. If you could live anywhere, where would you go?
Here are the top 10 places to consider for 2021. The 10 best places in the world to live, retire, chase adventure, and reinvent your life in the New Year, rated and ranked on the 14 factors most important to the would-be retiree overseas.
Each of these world's best destinations are featured in great detail in our Annual Overseas Retirement Index. This includes itemized budgets for each destination, as well as comprehensive and up-to-the-minute overviews of health care, health insurance, residency options, internet speeds, climate particulars, taxes, the cost of buying a home of your own, safety concerns (if any), size of the local expat community, and on and on.
This is the biggest Overseas Retirement Index we've ever published and the most exhaustive you'll find anywhere. No other such survey compares.
And The Winner Is…
Now… drum roll, please… it's time for the main event…
What are your best options for living well, retiring better, and having the adventure of your life overseas in 2021? Read on…
Note that your best options for retiring overseas in 2021 include five destinations in Europe. The relatively strong dollar coupled with depressed  values in certain markets make the eurozone a more realistic option than it's been in a long time.
#1: Tavira, Portugal
At A Glance
Cost Of Living: B
Health Care: A-
Affordability Of Real Estate: C+
Residency: A+
Taxes: A-
The winner of this year's index is Tavira, a charming town in Portugal's Algarve region. Once again, the Algarve takes top billing because it offers everything retirees could want: near-perfect weather, an established and welcoming expat community, top-notch medical facilities, an affordable cost of living for a high quality of life, endless opportunities for fun and adventure, a great deal of English spoken, first-world infrastructure, and easy access to the United States and Europe.
Tavira features all the trappings of a traditional Algarvean town: cobblestone streets, whitewashed buildings, lacework chimney pots, and azulejo tiles. It also has a well-deserved reputation among nature lovers who prefer a more natural feel to what the Western Algarve offers. The town is situated along Ria Formosa Natural Park, a remarkable 18,000-hectare natural area of lagoons, sandbanks, canals, and islands. The park's protected status means that Tavira's beaches have been unmarred by development and remain the most naturally beautiful in the region.
Top Quality Infrastructure
The infrastructure in the Algarve is top-notch; this is not the developing world. Health care is world-class and a fraction of the cost of care in North America. Even better, health care is free for residents, and establishing residency is easy and cheap for anyone of any age.
The monarchs of Portugal and England married each other from the 14th century on, creating the oldest alliance in Europe. As a result, English is widely spoken in the Algarve, so you don't have to learn a new language if you don't want to.
As a resident in Portugal, your retirement income isn't taxed, and various other incomes can be tax-free, too.
#2: Mazatlán, Mexico
At A Glance
Cost Of Living: A
Health Care: B+
Affordability Of Real Estate: A
Residency: A-
Taxes: B
Over the past four decades, Americans have voted Mexico the world's number one place to live and retire overseas in the way that counts—they've packed up and moved there.
Mexico is home to more American expats and retirees than any other nationality. At least 1 million and as many as 2 million Americans have made a move down south. These kinds of numbers make Mexico hard to ignore when looking at the best places to live overseas.
Mexico's primary attraction is its accessibility. It's easier for an American to get to Mexico than to any country other than Canada. Why go south of the Rio Grande rather than to the Great White North? The weather!
Among this country's many attractive lifestyle options, Mazatlán stands out. A bustling city, beautiful beaches, and a walkable colonial center. A popular expat choice and an authentic Mexican resort town that manages to feel homely… Mazatlán has it all.
Why Mazatlán Is On The Comeback Trail
Located about midway along Mexico's Pacific coast, Mazatlán has been out of favor among tourists and expats for decades, and now it is making a comeback. The city's renaissance has been focused on its historic center, which has undergone an impressive facelift and now rivals Mazatlán's 20 miles of beach for attracting attention.
From December through March, daytime temperatures in Mazatlán hover in the 70s ℉, and there's little to no rain. Between July and October, temperatures are regularly 85 ℉ and warmer, and humidity levels are higher. This makes Mazatlán an ideal choice for snowbirding.
Moving to Mazatlán can be as hassle-free as an international move gets. Nothing's as easy as loading up a truck and driving south. Your moving budget could be simply gas and tolls.
#3: Lisbon, Portugal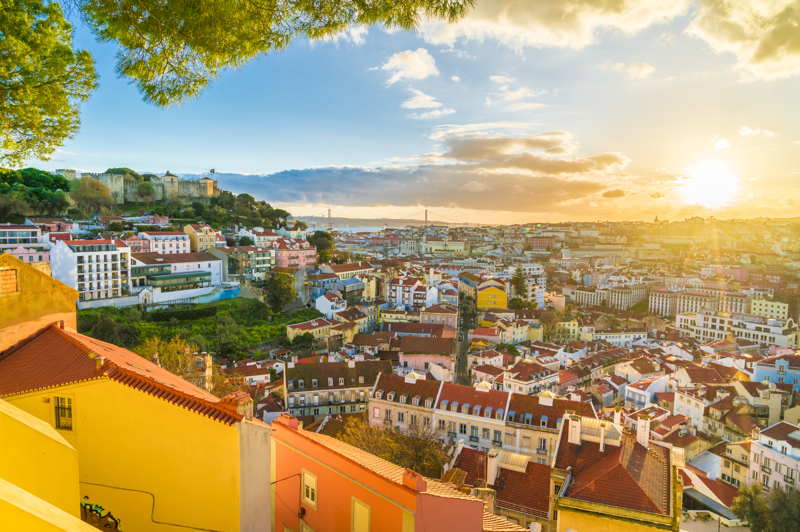 At A Glance
Cost Of Living: C+
Health Care: A+
Affordability Of Real Estate: D
Residency: A+
Taxes: A-
Portugal takes first and third place on the list of best places to retire overseas in 2021. What makes Lisbon, in particular, stand out as a top overseas retirement destination are its uniquely cosmopolitan attributes, proximity to the beach, and its great weather, which is perhaps the best of all the Western European capitals with 220 sunny days per year. Moreover, unlike a lot of capital cities, Lisbon is safe.
Lisbon boasts incomparable museums, galleries, concerts, and theatre and serves up world-class cuisine. It draws on thousands of years of history to provide gorgeous architecture that will have you tripping over yourself as you look ever skyward…
Metropolitan Life A Hop, Skip And A Jump Away From The Beach
Lisbon is one of the few European cities that is surrounded by white sandy beaches and crystal-clear waters. You'll find 54 Blue Flag beaches (a designation that denotes excellence in cleanliness, safety, amenities, and environmental standards) in the regions of Lisbon and Tagus. Some of these beaches are located only a 30-minute drive or train ride away from the city.
Carcavelos beach is super-accessible, only 20 km from Lisbon, and famous for beach soccer. A more relaxed beach is Queen's, perfect for laying back, tanning, and enjoying the surroundings.
Along the Marginal, a coastal highway that connects Lisbon with the town of Cascais, the scenery is out of this world… a seemingly endless line of mesmerizing white, sandy beaches and breakwaters unfolds for miles.
#4: Cuenca, Ecuador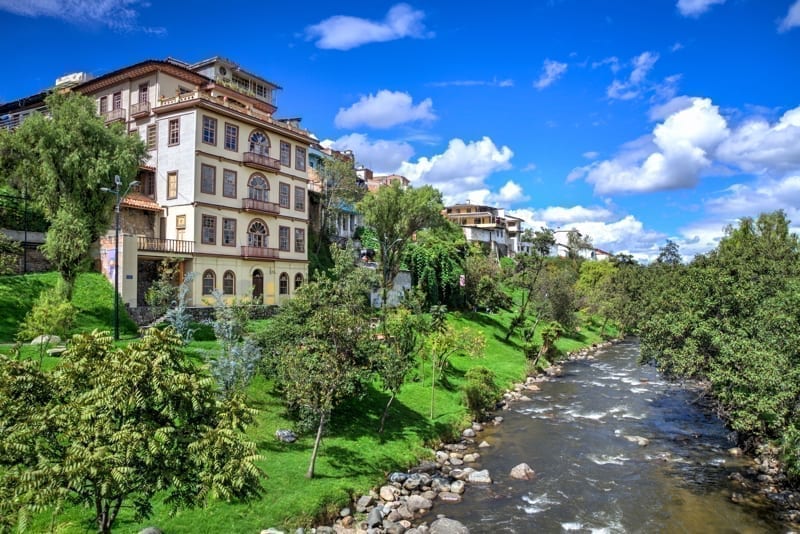 At A Glance
Cost Of Living: A+
Health Care: A-
Affordability Of Real Estate: A+
Residency: A
Taxes: B-
Cuenca is a beautiful city with cobblestone streets and a well-preserved historic center. Even though Ecuador is in the developing world, Cuenca enjoys reliable electricity, modern internet service, and drinkable water.
This is a walkable city, meaning you don't have to invest in the expense of a car. The mild climate means no heating or air conditioning expenses… another cost-cutter. Health care is first-rate and so cheap that it can make more sense to pay out of pocket rather than investing in health insurance. Cuenca is one of the world's most affordable places to retire.
Furthermore, Ecuador uses the U.S. dollar as its currency, meaning no exchange rate risk.
Join An Established Expat Community
Cuenca is home to one of the world's biggest expat retiree communities. You'll have plenty of support to help you with your transition.
The expat community has been a significant contributor to the local cultural scene. Today, Cuenca is home to a range of civic and social clubs, special interest groups, and volunteer organizations sponsoring a wide variety of events and activities. You will find theatre groups, fishing clubs, cyclists, creative writers, Buddhist meditation, photographers, hikers, quilters, artists, and investors… the list goes on.
As Cuenca's expat population has grown over the past few decades, so too has the number of English speakers. With thousands of English-speaking expats in residence, English has rubbed off on much of the service sector, including the immigration office. This makes going about your daily life straightforward and stress-free if you don't have too much Spanish.
#5: Panama City, Panama
At A Glance
Cost Of Living: B-
Health Care: A+
Affordability Of Real Estate: B-
Residency: A+
Taxes: A+
Panama has been heralded as the world's top retirement haven for many years. Panama City offers a high caliber lifestyle, and a more comfortable, well-appointed standard of living than other capital cities in the Americas. It's changed drastically over the past 15 years and is well on its way to becoming the brand name city it has long aspired to become.
Panama City has U.S.-style malls and traditional open-air markets, skyscrapers and crumbling Spanish colonial architecture, five-star restaurants, and hole-in-the-wall eateries… a mix of old and new, ultra-modern and run-down, laid-back and chaotic. It's a heady combo. Ultimately, it offers the chance to live in a tropical urban setting, a hub of trade and industry, and the only true cosmopolitan environment in Central America.
Live An Active Retirement In The Hub Of The Americas
You can find any type of organized recreational activity you can think of in Panama City—sports leagues, running groups, yoga and pilates, boxing, MMA, and Muay Thai, Zumba and aerobics dance, running groups, cycling clubs, marathons, competitions, and more. You'll also find full-service modern gyms with personal trainers and facilities like saunas and pools.
Many people prefer outdoor recreation and get their exercise  at one of the city's many parks. Parque Omar, just behind the San Francisco neighborhood, is the biggest park in the city. It's full of people jogging, walking their dogs, playing with their kids, doing sports, and occasionally doing outdoor salsa lessons.
Panama City is known as the Hub of the Americas, and looking at the list of destinations its international airport serves across the globe, it's not hard to see why. It offers direct flights to key U.S. cities, making travel to Panama super convenient.
#6: Northern Belize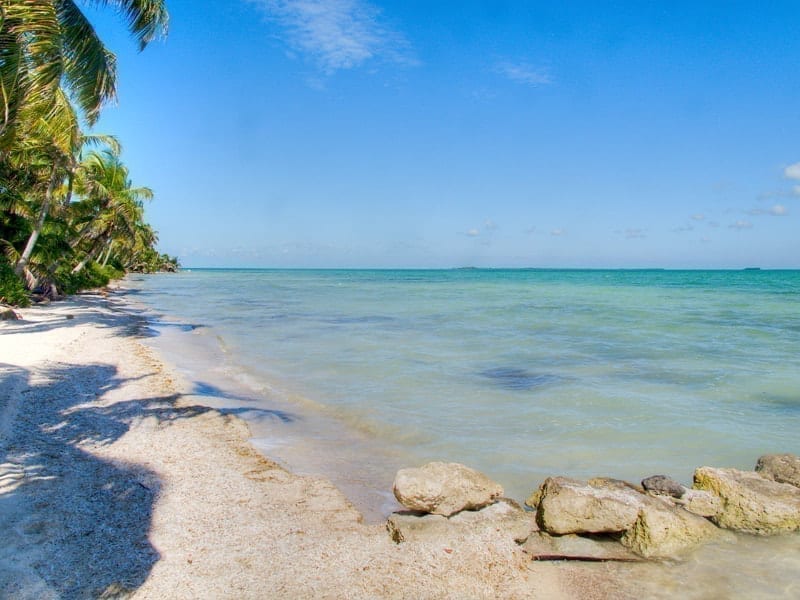 At A Glance
Cost Of Living: A
Health Care: D
Affordability Of Real Estate: A
Residency: A
Taxes: A+
Just a three-hour flight from the United States is a place of tropical sunshine and Caribbean waters, a pocket of peace and seclusion, home to some of the best fishing, bird watching, and archaeological sites in the world…
It's a place that few have heard of, and it doesn't make international news headlines often. That is, until recently, when it started ranking at the top of publications like Forbes, who put it on its list of the world's best places to retire overseas.
This place is Northern Belize, a strangely secretive region of the Belize mainland that consists of two large districts: Orange Walk, about 80 km northwest of Belize City, and Corozal, which is Belize's most northern district that hugs the border with Mexico.
Once the center of the ancient Mayan Empire, Northern Belize now marks the intersection of laidback Caribbean culture, Central American farmland, and vibrant jungle. The wide-open spaces of Northern Belize appeal to the adventuresome and the independent. Living here, you'd enjoy elbow room, far-reaching vistas, and a clean slate. You could start over and rebuild your life entirely.
Back To Basics And Off The Grid Living
Northern Belize is one of the top choices worldwide for getting back to basics. The good news is that going off the grid today does not have to be as challenging nor the lifestyle as rugged as it was even 10 years ago. Today, amidst Northern Belize's wild landscape, you can live self-sufficiently in style and good company.
Northern Belize is the type of place where strangers smile and say good morning, happy to stop and chat when they pass each other on the street. The locals are friendly, and most speak at least some English, as it's the official language of Belize. The expat community is big, eclectic, and tight-knit, with lots of organized activities and interest groups to join.
#7: Budapest, Hungary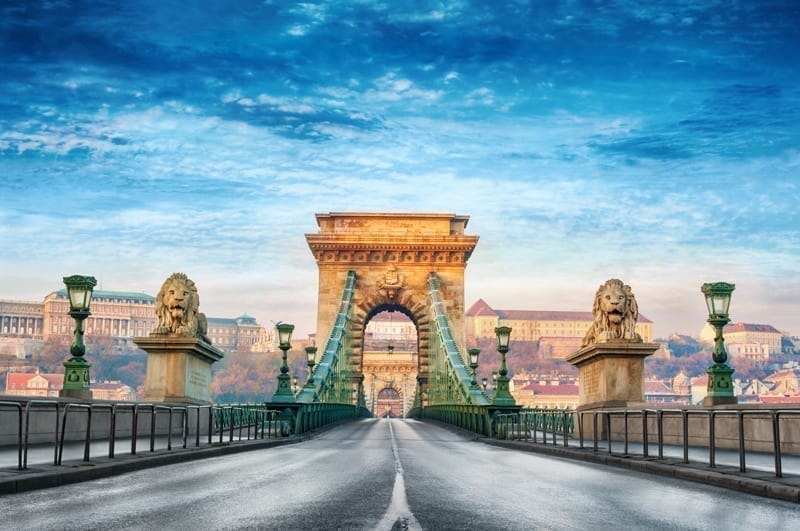 At A Glance
Cost Of Living: A
Health Care: A
Affordability Of Real Estate: C-
Residency: B
Taxes: B
Budapest is a modern city with all the conveniences of the 21st century. What makes Budapest special—the reason it's considered Europe's loveliest capital—has nothing to do with its present and everything to do with its past. Budapest is a historical marvel, a breathtaking bazaar of architectural styles that span about eight centuries.
Living in Budapest is like living in an open-air museum. Each starkly different building style serves as a reminder of the various phases of history this city has passed through. You never know what you might discover around the next corner or from which century it might date.
Public spaces, like the parks, are thoroughly enjoyed by Budapest's residents. And when you need to escape the city and revel in a bit more nature, you can do that easily and quickly. It's well-positioned for travel to some of the Continent's lesser-touristed areas in Central and Eastern Europe.
If you're a history buff or love architecture, if walkability and green spaces are important to you, or if you simply love Europe and are looking for a way to get your foot in the door financially, Budapest is an excellent option.
One Of Europe's Most Affordable Capitals
Budapest represents one of the best options for retiring to a European capital on a tight budget. The city is exceptionally well-connected through its diverse and accessible public transport network, meaning you'd never need to worry about car insurance or gas prices again. Plus, it's completely walkable, which is the most enjoyable way to get around and take in the ambiance.
Health care in Budapest is excellent and affordable. It's starting to attract medical tourists from around the world, especially for its cheap, high-quality dental care. As an expat and even as a tourist in Hungary, you're automatically covered for accidents, including first aid and emergency treatment.
#8: Pedasí, Panama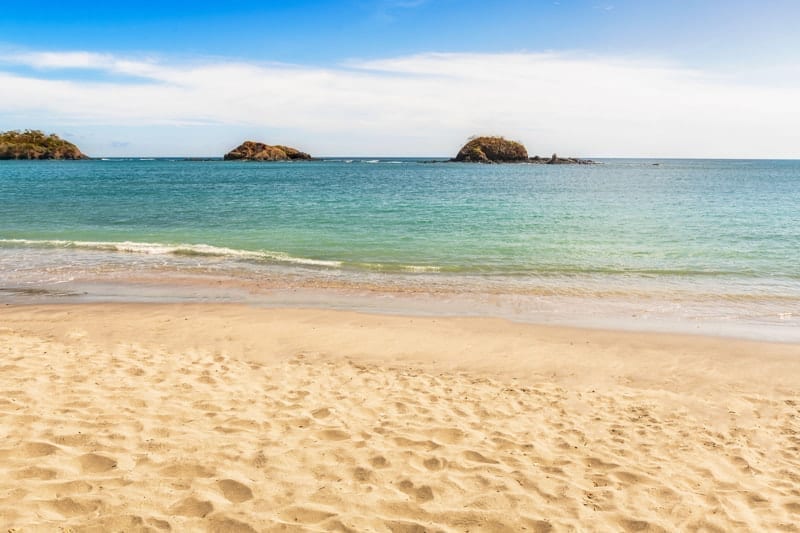 At A Glance
Cost Of Living: A+
Health Care: C+
Affordability Of Real Estate: A
Residency: A+
Taxes: A+
Pedasí is a small town on the Azuero Peninsula, an oblong chunk of land that juts out from Panama's south coast and into the Pacific Ocean. Not too long ago, Pedasí was little more than a traditional fishing village. While it still retains that small-town atmosphere, nowadays, Pedasí attracts expats, visitors, investors, and second-home owners from around the world. The big draw? Miles and miles of unspoiled beach.
Pedasí is surrounded by arguably some of the most beautiful coastline in Panama. There are at least 12 beaches close to the town. People from all over are buying plots of land, building their dream homes, and relocating to their version of beachside paradise.
Welcoming Locals Create A Cosy Atmosphere
Pedasí is a town with a village atmosphere—large enough to feel like you can live there, yet small enough to make you feel like an active stakeholder in a thriving community. It has to be one of the friendliest towns in Panama.
The infectious laid-back vibe of the locals has carried over to the expats now residing in Pedasí. Not all towns full of expats are this relaxed and friendly. Sometimes it's the opposite. In Pedasí, the locals and expats happily welcome others, because it means more friends and more local businesses to share.
Pedasí is a very safe town. Children play and cycle on the streets unsupervised, everyone in town seems to know each other, people help each other out, and hitchhiking is still common practice. The chances of falling victim to even petty crime are slim to none in Pedasí.
#9: Saint-Chinian, France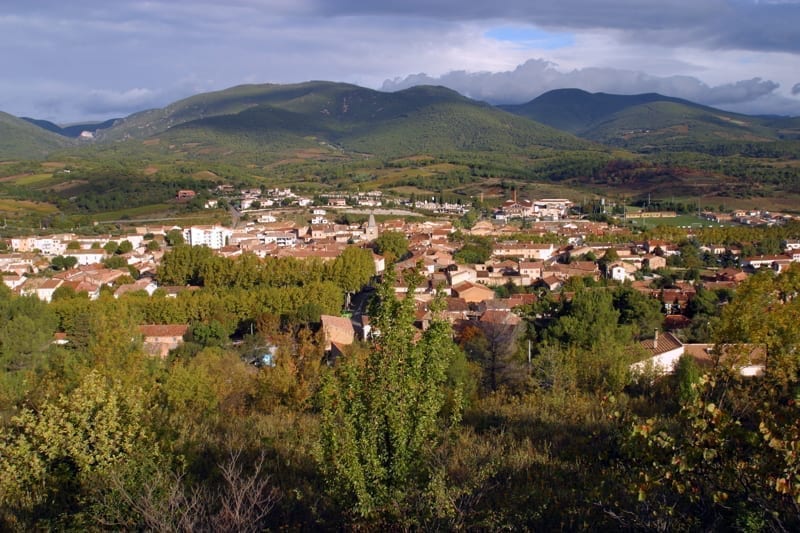 At A Glance
Cost Of Living: A
Health Care: A
Affordability Of Real Estate: A-
Residency: A
Taxes: C
Nestled in the Occitanie region of France is Saint-Chinian, a bustling market town of about 2,000 people, popular with locals who come from afar to taste the locally grown produce and artisan goods. Saint-Chinian offers a friendly community feeling that embodies this part of France. Everyone knows everyone, and if they don't, they make it a point to get to know you before too long.
Though it may be small, Saint-Chinian has everything you need for daily life—local produce shops, restaurants, bars, a doctor's office, a dentist, a pharmacy, a health shop, and wine cellars.
Despite the growing popularity of this part of France, there is still plenty of low-budget real estate to choose from. Compared to the 'Other South Of France', Saint-Chinian, and the Occitanie region in general, is budget-friendly.
Thanks to the excellent train and bus service, you could live in Saint-Chinian without a car. If you find you do need a lift somewhere, ask a neighbor.
The people of Saint-Chinian are amicable and always ready to help out. The French are often thought of as rude and aloof. In Saint-Chinian, the reality is nothing to do with the stereotype.
A Great Choice For Wine Lovers
The main reason for the growing popularity of Saint-Chinian is its wine. For decades, Occitanie produced vast quantities of quaffable vin de table, but nothing notable. Over the last dozen years, growers have specialized and built on the AOC (appellation d'origine contrôlée) status and are now producing world-ranking red wines from the original Carignan, Cinsaut, and Grenache grapes, with the addition of Syrah and Mourvèdre varieties.
Indeed, wine is the village economy. Saint-Chinian is home to 2,000 inhabitants, 200 of whom are winemakers.
#10: Gozo, Malta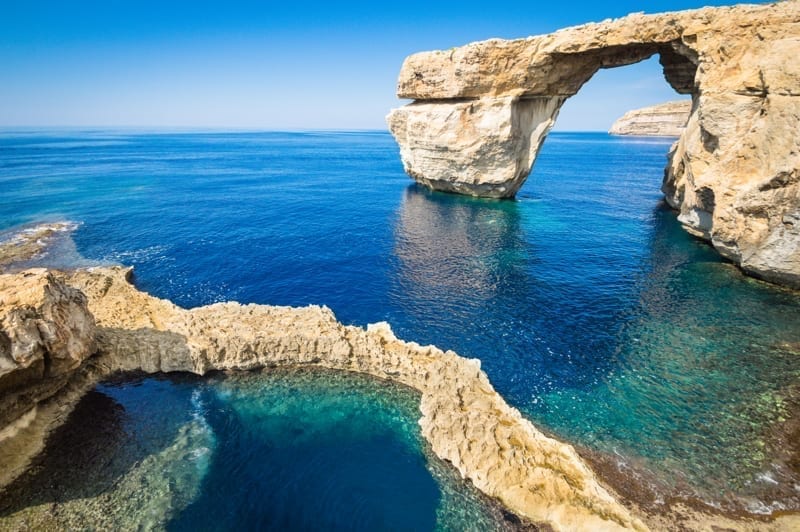 At A Glance
Cost Of Living: B
Health Care: A-
Affordability Of Real Estate: B-
Residency: A
Taxes: A
The archipelago, 316 square-kilometer nation of Malta, with a population of just over 500,000 people, is a first-world jewel in the middle of the Mediterranean Sea. An EU member where the multilingual population almost universally speaks English, Malta is a safe, stable haven boasting an excellent overall standard of living and top-notch health care.
Part of this archipelago is the island of Gozo, a picturesque sanctuary where you can enjoy abundant sunshine, turquoise waters, and inexpensive property with historical charm, all set within a traditional village atmosphere.
Life is simple on Gozo… church bells sound at the same time every day, you see the same faces over and over, and life moves at a relaxed pace. None of Gozo's villages has a population bigger than 7,000 people, so the small-town feeling is consistent across the island. The lifestyle is safe, peaceful, and quiet, and that's the way people like it.
If you're after a tranquil village setting shared by expats and locals, as well as proximity to the sea, access to Europe, and a reasonable cost of living, you've got to go to Gozo.
Affordable Living With A Rich History
From its weather and food to its history and culture, Gozo is the best of Mediterranean Europe and one of the most affordable options for embracing this lifestyle.
Malta is a bargain compared to the rest of Europe, and Gozo is a bargain compared to Malta. Everything from groceries to utilities, eating out to transport, is inexpensive here and will cost you less than it does at home. On top of all that, Malta offers a favorable tax situation to foreign retirees, meaning you could save money by living here.
Malta does not offer a retiree visa, but its Global Residence Program for non-EU citizens amounts to one of the best residency opportunities in Europe. You can qualify simply by renting a place to live for as little as 800 euros per month and paying a once-off registration fee.
The Maltese people are warm and welcoming with a culture of their own, and other European destinations are a quick flight away.